This site uses cookies. By continuing to use this site, you are agreeing to our use of cookies.

Learn More.

Welcome

Guest

, please to gain full access to the Lawless Roleplay Community.
Server Update v1.5.45
​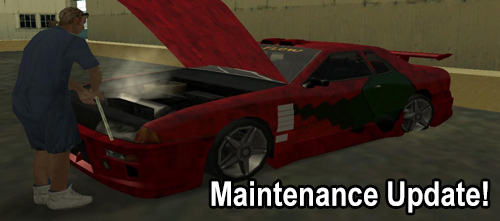 ​
This release contains a brief maintenance update with the following change logs:
Code:
- Fixed a bug with the GPS and converted it into independent module
- Tutorial now pauses if you are tabbed
- Fixed a calculation error with /gmute in certain circumstances
- Increased business slots to 750
- Fixed a /dropgun ban bug
- Upgraded VPN protection
- Anti-cheat bug fixes
- BR now requires 4 players to start and bonus is given at 10 players or more
Hope you enjoy!
Server Update v1.5.40
​
​
Lawless Roleplay uses a custom state of the art anticheat and protection system called C.O.C.K. which is short for Coded Observation Cheat K-Liner. Since the release of C.O.C.K. version 2.0 in 2015, there have been only minor editions and revisions done which is why I am extremely excited to announce that C.O.C.K. version 3.0 is now ready to be released as a public beta.

While this update may not seem significant to many members but this new version of C.O.C.K. has been in the works since 2015 and only being able to publicly test it now is a major achievement and a merit to the complexity and advanced code.

With this update, C.O.C.K. can now detect over 50 types of different cheats, exploits and game breaking experiences - all with the aim of delivering the smoothest game play.

In addition to C.O.C.K. version 3.0, material pick up locations will be giving out bonus materials in their first few hours of capture (until the next material pick up point is captured), although, cops can shut down the bonus material giveaway.

- Normal material run rates depending on forklift skill: 275, 300, 325, 350, 400
- Bonus material run rates depending on forklift skill: 300, 325, 350, 400, 450
- There can only be one material route offering bonus materials, it alternates between whichever material point is up for grabs
- If the cops shut the material point down then there will be no bonus until a gang captures a material point

There is now a new turf perk called payroll which when owned by a gang allows their members to not get any notoriety while in ownership of that gang. However when cops shut this turf down, they will receive a bonus $600 on top of their standard $600 turf shut down payment every paycheck.

Finally, I have also decreased the gambling level to 8 and have added /vs and /vst as /vstorage access commands.​
​
10 MINUTE RULE
​

Deathmatch is one of the major concerns within the server, it occurs daily and it can be troublesome to prove the oppositions guilt. We have decided to restore the old 10 minute rule back into place to ensure you have the highest gameplay experience possible to our standards, effective immediately.

You

must

carry out any reasons to kill another player within 10 minutes.

For example, a player attempts to steal your vehicle, insults you, snitched or for any in-character reason; you have 10 minutes to carry out any actions you wish upon the player. After the 10 minutes go by, you are not allowed to attack the player for the same reason you had within those 10 minutes; else it would be classed under deathmatch.
The 10 minutes can be extended if you are actively chasing a player (ie. been after this player for 2 hours straight).
There are of course exceptions to this such as gang wars, bank robbery, turfs and most wanted.
------------------------------​
Thanks for your time,
Roy