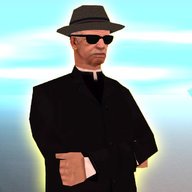 Joined

Apr 11, 2013
Messages

10,645
Reaction score

7,041
Level

2
Awards

5
192.223.24.181:7777
​
That might be the question you're currently asking right now. What the hell happened?! Dude! I can explain!
The relationship of a server with it's owner is like two married couples, the wife is always mad and pissed off whilst the husband tries to make her happy and she won't tell him how. So there is a dilemma, something is broke and you need to fix it - but what is that something exactly? That's my relationship with our server.
At exactly 19:32 PM (GMT +0), our server RAID configuration went corrupt whilst one of our cisco firewalls was directly attacked. I don't know how hard drives can become corrupt after a physical firewall gets a denial of service (DoS) attack - it's driving me crazy.
This error was very unforgiving, it was out for blood - kind of like a chainsaw left on in the middle of a Slipknot moshpit. The hard drives became corrupt only 5 minutes before our routine back up systems kicked in. So we only had a 3 hour old back up. I know how much you guys hate losing stuff.
Luckily, I've spent the past 27 hours with our SysAdmin working on getting our corrupt hard drives back up to speed so we can at least leach the SQL data from it. That took about 7 hours. And another 7 hours was used by me and another staff member trying to configure the server.
However, we had success!
We have the LATEST version of the game online with everyone's data intact and up to date.
And we have even better news...
Our host has updated our dedicated server to the following specs:
Intel Xeon E3-1270v3 4 x 3.9 Ghz
64 GB DDR3-1600 ECC RAM
240 GB SSD and 2000 GB, 7200 RPM SATA hard drive
The updates above has been done for us free of charge and will not cost our donators a single cent more than before.
*Note:
We have also moved our server location to a more global point, New York in America. We have instantly seen pings decrease from Central America, Europe, Asia and Africa. This means that our IP has changed:
192.223.24.181:7777​