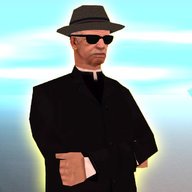 Joined

Apr 11, 2013
Messages

10,644
Reaction score

7,041
Level

2
Awards

5
The past few days that have gone by have been very difficult for all of us. Most of you are aware that we were attacked, multiple times, causing the server to unexpectedly shut down, many people freaked out thinking it was the end of Lawless Roleplay but I am here today to tell those people, you are wrong.
We don't give up that easily. Since the start of the attacks, I have stayed awake overnight trying to block the distributed denial of service attacks. I want you all to know that we will do whatever it costs to bring the community back online in dark times like this, even if that means we stay awake all night trying to figure this out.
So I would like to thank everyone for their patience, trust, loyalty and most importantly support. With the help of the community, we have been able to recover from countless attacks against this community. This isn't the first time we've been attacked and will certainly not be the last time we will be attacked but I want you to know I am here for you all.
Between 12:30am and 4am server time on Thursday, September 8, we plan to upgrade the server to an updated version of Xen/Linux. We expect for this process to cause approximately 30-60 minutes of downtime.
Because of this downtime and past downtimes, I am enabling Double XP this weekend as a goodwill gesture to the community and as an apology for allowing such downtime.
Yes! You have read it right! We are activating
DOUBLE EXP
for the following weekend!
STARTS:
Saturday, September 10th, 2016 -
00:01 AM GMT +1
ENDS:
Sunday, September 11th, 2016 -
23:59 AM GMT +1
START TIMES
Los Angeles (GMT -8) -
4:01 PM
Chicago (GMT -6) -
6:01 PM
New York (GMT -5) -
7:01 PM
Rio de Janeiro (GMT -2) -
10:01 PM
London (GMT +0) -
12:01 PM
Vienna (GMT +1) -
01:01 AM
Mumbai (GMT +5.5) -
06:31 AM
Manila (GMT +8) -
08:01 AM
Auckland (GMT +13) -
13:01 PM
​