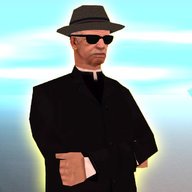 Joined

Apr 11, 2013
Messages

10,682
Reaction score

7,315
Level

2
Awards

5
v1.8.10
I am pleased to release our 26th weekly update. I know this was meant to be released last week however real life got in the way and work has been a wild roller-coaster. It's actually a miracle that I have had the time and energy to release this update. However, I have made sure that I set some time apart from everything to work on this weekly update for our loyal and lovely members!
You guys are awesome and I only release these updates for you guys! You know who you are.
However lately, I have noticed that there has been a lot of Lawless Roleplay haters out there and I'm not really sure why but it just seems to be happening.
I think you haters really need to leave this community and go somewhere else. Cause here on Lawless Roleplay, myself and the staff teams are trying really hard to give you fun, entertain you, make you laugh and you guys are just trying to bring us down. There is just no room for that. On Lawless Roleplay, we're all here to have fun. There is an old ancient Chinese proverb from 20 million years ago that says if you have nothing nice to say then shut the hell up cause nobody wants to hear it.
Battle Royale is back for this Autumn season!
Battle Royale is a game mode that blends the survival, exploration, and scavenging elements of a survival game with last-man-standing gameplay. You can team, heal, use drugs but there must be only one survivor.
When a new Battle Royale round starts, you fly over wasted battlegrounds in a plane and will need to parachute down without any weapons or tools.
Once you land, you will need to explore and scavenge weapons, health, armour and tools to kill rivals. Some parts of the wasted battlegrounds like the abandoned warship contain more loot and sometimes extremely rare loot!
The map will slowly get smaller and smaller until there is one winner left! The winner gets a money prize and if there are more than 16 players, they also get an additional prize.
You can start a new Battle Royale round at the red dot in the map below:
In a
previous update
, we optimised the script to make interiors load much faster.
In this update, we have increased the server stability with lands and exterior mapping.
The property team have been working closely with us to do this and they have also allowed businesses in turf bounds to be used! (
Business Moves
are on sale from €10 to €7 until 16 September 2020!)
Hookers can give double health and extended health to their clients for this weeks bonus!
* This event will be going on from 10th to 17th September only
We have listened to the top two suggestions to improve paintball 2.0!
A player with any donator status (
Ivy
,
Rose
and
Daisy
) can now create a private match starting from 2 players. Awesome for custom duels and competitions!
Paintball matches will no longer automatically end if there are less than 4 players in a match.
An all-time favourite of the community is back! Earn double pay while doing the lumber jack job!
* This event will be going on from 10th to 17th September only
We are giving $10,000 FREE to all players who have 2FA enabled (
click here to find out how to enable 2FA
).
If you do not have 2FA enabled, you can enable it by using /settings in-game and then reconnecting to receive your FREE $10,000!
* This event will be going on from 10th to 17th September only
Code:
- Businesses are operatable if a turf is under attack
- You no longer can do damage in weapon disabled interiors or melee only interiors
- COCK Update
- Fixed teleport warnings inside events
- Enabled Battle Royale
- Enabled Battle Royale ATM
- Disabled double robbery reward, double crate reward and double sweeper pay
- Private games can have 2 players
- Paintball games do not automatically end if there is more than 1 players left inside the game
- Only donators, beta testers and developers can be guarded by a bodyguard while the job is in BETA
- Enabled double hooker health bonus
- Disabled Casino and Bank exteriors
- Added 2 Speeder boats to LSFMD S.R.T. division (one by long beach and one between LS and SF river)
- Added 1 Medical Helicopter to County General Hospital
- /listpt now lists the name of the building the player is injured in
- Fixed cops not being able to taze in weapon-free interiors
- Adjusted Katana damage
- Enabled double lumber jack pay
- Enabled $10,000 login freebie if they have 2FA enabled
The Lawless Roleplay team is encouraging you to follow, like, and subscribe to our Social Media pages! The benefits of supporting our social media are significant as we are hosting constant giveaways for our players, meaning if you like, follow, or subscribe to our Social Media pages; you are first to see the giveaway!
​
Public Relations
Development Team
Administrator Team
Whole Lawless Community