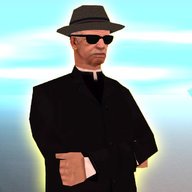 Joined

Apr 11, 2013
Messages

10,739
Reaction score

7,655
Level

2
Awards

5
v1.8.06
I know I say this every single week but we have released 25 weekly updates in a row with no breaks. It's crazy and I really never thought I could make this happen.
Since starting the weekly updates, we have introduced so many new features, from very small to very big such as crate island, turf raiding, bodyguard job, racing stadium, paintball 2.0, revised turf system, script optimisation including faster interior loading, a new levelling system and upgrades, an entirely new website, a new helper system, new hooker job, new trucking job, new business stock and employee system and so much more. The list is truly endless.
This could not be possible without the loyal players who play here week after week especially the ones that show so much love in these threads.
We are happy to release our first melee only interior turf!
In celebration of this, we have buffed all melee weapons to do more damage.
We have also made a new turf perk titled '
Grow Op
' which is a factory that grows all the different types of drugs and releases them every paycheck for the owning gang.
Earn twice as much from robbing stores, robbing houses and robbing the bank!
Check out "
/violence
" in-game to see all robbery commands.
* This event will be going on from 27th August - 3rd September only
Earn double crate materials or drugs if you are the capturing gang members or double pay if you work for a law enforcement agency.
* This event will be going on from 27th August - 3rd September only
Earn double pay while sweeping the dirty streets of San Andreas.
Use "
/findjob
" to find this job.
* This event will be going on from 27th August - 3rd September only
Code:
- Adjusted frequency of captcha on material running
- C.O.C.K. module update
- Increased melee damage for Cane, Katana, Pool, Shovel, Golf club, Nite stick, Bat and Knife
- Remove church exterior map
- Added Pakistani accent
- New door option type: only melees allowed
- New Grow Op (stackable) turf perk which gives a gang member a random amount of drugs every paycheck
- Fixed a bug with turf notifications for people in the registration screen
The Lawless Roleplay team is encouraging you to follow, like, and subscribe to our Social Media pages! The benefits of supporting our social media are significant as we are hosting constant giveaways for our players, meaning if you like, follow, or subscribe to our Social Media pages; you are first to see the giveaway!
​
Public Relations
Development Team
Administrator Team
Whole Lawless Community