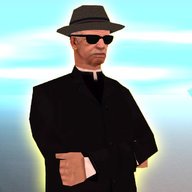 Joined

Apr 11, 2013
Messages

10,644
Reaction score

7,041
Level

2
Awards

5
Server Update 1.2.534
​
Hey guys, this is another small part of a series of bug fixes. We are looking to resolve all current bugs before we start adding new features. Please help us iron out every single annoyance, bug and issue by reporting them on our '
Report a Bug
' forums.
Update Details:
- If you're picking the lock of a vehicle and someone unlocks it or it gets moved, the lock picking process cancels
- Whilst pick locking a house or door, if it gets unlocked, it automatically cancels
- Fixed 7 typos where the term Drugs Dealer was used instead of Drug Dealer
- Fixed an issue where /killcheckpoints would not cancel the fisherman job
- Police officers no longer trigger warnings for tazer SD weapon hack bug (but they can still be banned for hacking one)
- The /loadpt command has been completely restructured to be more efficient
- The /loadpt command now checks to see if the medic has used /getpt on the patient before loading them up
- Fixed a bug with business ID 0
- Fixed a bug which did not report the actual report ID
- Fixed an issue with reports being out of bounds
- Increased land limit to 50
- Fixed a critical crash exploit (Thanks to Sam Axe)

Sam Axe managed to alert us of a very new SA-MP exploit (existing only in 0.3z from our testing). The BETA team have conducted tests and found out that the exploit works on other servers and can easily crash them. We have alerted SA-MP developers about the exploit and hope there is an upcoming fix.