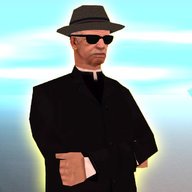 Joined

Apr 11, 2013
Messages

10,644
Reaction score

7,041
Level

2
Awards

5
Whoa! What a fun filled couple of days has it been? We hit over 110 players daily - nailing an all time high of 149 players after one month! We have so many changes planned in the pipeline – all thanks to you! We really enjoy listening to our players! We have changed a large prospect of how we operate to be more player orientated.
We have gathered three top questions asked by most new players and our old consultant
Citizen Alpha
answered them for you.
Our mission statement to you...
Lawless Roleplay is, and always, will be a community first and a game server second. We are dedicated to fostering an environment with a member-centric approach where all players have equal potential for in game success and community recognition.
Why play here?
Lawless Roleplay was originally founded on the principle that all players should rise or decline based on the actions of the person behind the player. We feel that success should be determined by a players actions and talents and not the whim of an administrative team. We have great code. We have great staff. We have great players. But most importantly we have a vigilant regard for your potential.
Is this a roleplay server?
We have worked to provide many in game tools for roleplay and it is absolutely encouraged however not required. We feel that any preferred mode of play that does not encroach on any other player's enjoyment of the game is productive. Due to the harsh nature of game mode frequent player versus player violent interaction should be expected. However, this does not mean that players are allowed to kill other players for no reason.
The new team
We have recently merged with another community called Suck My Network (LOL!) to make sure that we become the best in this genre of server. SMN runs a middle roleplay server which thrives in the OC and NA timezones, all their players have transferred over and both sides of the river are loving the gameplay.
This merge really allows us to display how diverse our server is. A lot of previous players had issues with deathmatch and with these issues almost gone - players can live their life's in utter freedom. This allows players to roleplay to any extent without the fear of being the one with the short stick. A mature community that is diverse and unique... oh how this lawless life is perfect.
Social! Stay connected...
At Lawless, we love talking, wherever you go in our community, you will find out that every single member is a chatter box. So we want to advance the social aspects and enhance the community's communication, allowing players to branch out and always keep in contact. To make things more interesting, we will be doing different giveaways on each of our platforms, from free businesses to a free car! We have so much stuff planned for you down the pipeline, it's amazing..
Steam
​
​
Join our steam group to find out when the next double experience point events are, to get access to exclusive give-aways contests and most importantly, you get to keep in contact with the server administration and members easily, like one giant chat room! Click the image to join!​
Fasebook
​
Make sure that you like and share our Facebook page to have access to EXCLUSIVE give-aways and sneak peaks into server updates.
A brand new facebook page for a brand new kickass community! Click the image to like!
YouTube
​
Our YouTube page is the number one slot to view the latest server features before they even hit the server. Be sure to like our videos and subscribe the channel to get more sneak peaks at new features coming to the server! We'll upload a sneak peak of the NEXT upcoming update.. Click the image to view the YouTube channel!
Version 1.1 Update!
Version 1.1 brings something that no other server can offer you. It breaks open the restrictions and limits in SA-MP and the script truly unleashes it's lawless side. This was the biggest project that the team have ever worked on, with the mapping team, beta team, senior player team, developer team and administrative teams working together to assure that this lawless update is flawless - so I hope that nurse skill comes handy.
Picklocks
Players can now break into other player's vehicles by purchasing a set of pick lock tools from any 24/7. You can now break into locked vehicles and go wild - but be careful as this also alerts the LSPD if the vehicle has an alarm system installed.
The lock system has been re-made - the alarm lock is now both an industrial lock and will alert the LSPD when someone breaks into it whilst the industrial lock remains untouched.
Lumberjack Job and Miner Job
These two jobs brings a new dimension into our server, one of our unique features that no other server can offer you. Here is a video demonstrating these two new interactive jobs:
Payphones
That's right! We've added payphones due to popular demand from the community. Calling anyone using a payphone allows full anonymity. This is a big hit for notorious players and hitman as it allows them to hide from the public and remain undetected in society.
Dropping and picking up guns
You can now physically drop your gun onto the ground and someone else can pick up. This brings a new dimension to the level of detail to the script and truly encourages new levels of roleplay. Dropped weapons will remain there forever until the server restarts or somebody picks it up.
The Chemist
There is a new addition to the drug smuggler and drug dealer jobs. You can now smuggle chemicals and help refill the stock room of the chemical laboratory so drug dealers can purchase chemicals. Chemicals can be purchased from drug dealers. Chemicals doubles the effect of cocaine and weed and can only be used after the first 5 seconds of taking the substance.
The super duper effects of taking random chemicals really shows when you have the drug addict perk. Be careful though, if you take it too fast or too often, chances are that you will overdose!
Basketball
The basketball system is open to all players and is made up of two teams! You can join a game and pass the ball around, shoot, dunk, defend and even do skills!
This really slaps another dimension into the server as gangs are giving more fun things to do in their spare time apart from claiming turfs and rampaging the lawless streets of Los Santos.
Taking guns to another level...
Your weapons now attach to your body just like the CLEO holster mod! This helps encourage more roleplay to the server as things such as asspulling and unpredictable fights are a thing of the past!
You can now see the weapons the player is carrying and as an added bonus, each time they swap weapons, a small message will be shown on top of their heads. Just another way that our system encourages and enforces roleplay.
Prison Escape
When notorious players get sent to prison by the F.B.I., they'll land in an unpleasant prison with a huge fine and plenty of time to ponder over their actions. We found out that quiet often, players get bored of spending hours upon hours in prison with no chance of freedom or interaction with other players. The new prison system allows gang members to break into the prison cells and to break out their buddies! The police will have to respond and stop the baddies from escaping!
Careful though! The police get alerted when the prison cells opens and you'll need to have 10 police officers online.
Points to Turfs
The point system created a very confusing set of server rules and gameplay. Points were OOC but had implications in the IC field - makes no sense!
Points are now known as turfs and all the old points commands redirect to the turf commands. Turfs last for 48 hours and police have the ability to shut down turfs to receive payment bonuses. Turfs do still pay gangs the same amount of money as before!
We decided to convert the point system into turfs for many reasons. The first one is that turfs was updated code from 2013 which used the general standard coding for this day and age whereas the points system was from 2008! The biggest advantage for administrators is that turfs can be created with a single command in-game.
And the fact that turfs are now opened to both gangs and factions - it really allows strategic gameplay and we look forward to the many deals made between factions and gangs to claim turfs.
Misc
There has been several bug fixes and new increased security in the script. I would like to personally thank all the hackers for helping us gain the data to increase the security of our script.
The lawless... land system
Now this is the big bombshell that we decided to leave to the very end. This new feature will redefine SA-MP and our server in every single way you can imagine!
The land system allows players to actually own a piece of land and build whatever you like on the land! And I mean anything! You can buy objects and place it on your land - you can create your own house, office, skyscrapper or gang HQ or faction HQ or anything you can imagine. I don't want to write a book on the entire system so allow me to let this video speak for itself...
​
FREE LAND?! WHERE!
So.. this is what the team has been up to the past week. Pretty amazing right? But hold on! The fun doesn't stop here! No! We are celebrating this huge milestone for the community by running raffles in-game and allowing players to have the ability to
WIN THEIR OWN PRIVATE LAND
!
You join the raffle by going to the big buddah at spawn (the first place you spawn at when you sign up to the community). You will need at least 8 playing hours and $2000. You can buy unlimited amounts of tickets however the more tickets you have, the better your chances at actually winning!
Good luck comrades!
I would like to take this opportunity to personally thank all the beta testers, senior players, members of administration, mappers, developers and everyone involved with this update on behalf of us - the players.
So join us and rise to power! It's time the lunatics prospered...