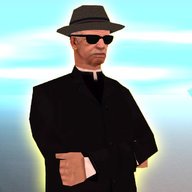 Joined

Apr 11, 2013
Messages

10,606
Reaction score

6,734
v1.7.42
We are proud to announce our
12th weekly update
today and it is probably the biggest one we've had since the start of weekly updates. I would like to take this moment to thank the entire development team, staff team and players for making this possible.
#LAWLESSNEVERDIES
In this update, we have something super awesome and just mind blowing... a completely custom and dynamic paintball system with different game types and game modes...
You no longer need to join deathmatch servers to prove the size of your e-peen. You can do it straight on Lawless Roleplay.
We have 3 game types:
Public
- Open to anybody to join
Private
- passworded private matches
Competitive
- scores are added to the public server leaderboard
We also have 4 game modes which are explained in more detail below.
Words do not do this system any justice, you must come in-game and try it out! Here are some screenshots to ease you over until you can come and try it first hand:
In paintball 2.0, the classic free for all makes a comeback but with such a twist, there are now healing boosts, 1 winner and up to 19 losers and oh if a winner isn't clear, there will be overtime until a winner kicks all the losers out!
Team deathmatch also makes a return in paintball 2.0 but we now have customised teams, MVPs and we can customise every single detail in this game mode!
Brand new in paintball 2.0, we have capture the flag game mode. In this game mode, two teams battle it out to steal eachother's flag and then returning it to their home to score 1 point. The winning team is the one who scores the most points! We also have MVPs, betting and more!
The second brand new game mode in paintball 2.0 is king of the hill, it's very simple, there is only 1 hill, you own it and kill anyone who tries to steal the hill from you. The winner is the person with the most kills on the hill.
In this week's bonus, business owners
PAY NOTHING
to hire a business employee and business employees get
50% more pay FREE
of charge to the business owner!
* This event will be going on from 11th June - 18th June only
Code:
- Paintball 2.0 released
- There are fully customizable rooms which cost $5,000 to make or free if you are daisy or above
- There are 2 free server hosted rooms
- There are 3 game types: public (anyone can join), private (passworded) and competitive (results are submitted to the leaderboard)
- There are 4 game modes: deathmatch, team deathmatch, capture the flag (capture the flag of the rival team and get points, highest points wins), king of the hill (get kills in a special area, most kills wins)
- Games have winners and MVPs if they are a team based game mode
- You can also bet on yourself in paintball games
- New healing boost in paintball where you get earn health points as you kill more people and earn a higher spree
- Public leaderboard of competitive games
- If a non-score based game is drawn, there are overtime
- Weekly bonus: Business owners pay $0 to hire an employee
- Weekly bonus: Employees get 50% more pay at no cost to the business owner
- Hitmen now receive 50% of the contract payment instead of 1/8th
- If someone kills a hitmen, they get 25% of their contact money and get their contract cancelled
- You can now /waa to wear all accessories or /waa [slot] to wear a particular one, the same applies for /daa to detact all or a particular one
- Added charge to /free defined by the lawyer
- Disabled coronavirus script
- Changed chance of rain and sand storm to 1%
- Increased sniper material price to 10,500 materials and increased sniper damage
- Increased shotgun damage
- Increased spas-12 damage
- Added exclusion criteria to /pickupbb and /placebb if you're being dragged, tied, dead, injured, in events, recently hurt, robbing somewhere, on a helper request
- Changed "You cannot hide your bandana as you have only recently put it on or recently used a weapon." to "You cannot hide your bandana as you have either recently put your bandana on or used a weapon."
- Added little mexico FBI HQ map fixes by Patrick Setland
- Added FBI heli at little mexico HQ
- Fixed hitmen contracts still being valid if either player is in an event, jail, admin duty, hunted or on a helper request
- Removed paintball 1.0
- Updated /kills to work with paintball 2.0
- Added /cancel free
The Lawless Roleplay team is encouraging you to follow, like, and subscribe to our Social Media pages! The benefits of supporting our social media are significant as we are hosting constant giveaways for our players, meaning if you like, follow, or subscribe to our Social Media pages; you are first to see the giveaway!

​
Public Relations
Development Team
Administrator Team
Whole Lawless Community