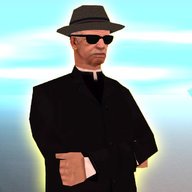 Joined

Apr 11, 2013
Messages

10,606
Reaction score

6,734
v1.7.18
This is our
TENTH
weekly update in a row! What an amazing achievement! Let's celebrate in the comments!
We have these hard-working boys and girls working round the clock to ensure the community is running smoothly.
It's time we recognise them not just out of the game but now inside the game.
The above groups now have access to the community affairs special group perks in-game with a special status in-game.
It's going to be one crazy week in Los Santos. Material Factories will be giving gangs double pay!
But gangs will need to work hard to keep their business in order since these turfs will be vulnerable every 11 hours!
Grinders rejoice in another weekly bonus!
We have triple miner pay and you now earn x1.5 materials when you material run
(we have adjusted the captcha)

* This event will be going on from 28th May - 4th June only
Code:
- Enable 3x miner pay
- Enabled x1.5 material run bonus
- Material drop off turf is now vulnerable every 11 hours
- Material drop off turf now earns x2 for turf owner
- Added cancel to captcha
- Adjusted captcha logic for /getmats
- Made it so players can use their own master trucks without being level 6 but need to be level 6 trucker to use server master trucks
- Added Hacking Investigator, Designer, Faction/ Gang Leader to community affairs status
- Made it so that dealership vehicles prices are displayed like so "$100,000"
- Changed the your business is being robbed message to mention the actual business name
- Business employees now also get a message when a business is being robbed
- Adjusted death variable processing
- Fixed a run time error with entering a wrong business ID in the manual truck driving job
- Fixed a run time error with /punlist for offline players
- Changed material runs to give 270-340 depending on forklift skill normally
- Changed material runs to give 300-400 depending on forklift skill if material drop off turf if being attacked
- Fixed: https://www.lawlessrp.com/threads/sa-mp-biggest-trucker-job-bug.200097/
- Fixed land graffiti issue
The Lawless Roleplay team is encouraging you to follow, like, and subscribe to our Social Media pages! The benefits of supporting our social media are significant as we are hosting constant giveaways for our players, meaning if you like, follow, or subscribe to our Social Media pages; you are first to see the giveaway!
​
Public Relations
Development Team
Administrator Team
Whole Lawless Community