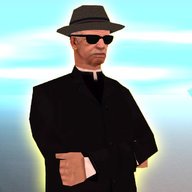 Joined

Apr 11, 2013
Messages

10,645
Reaction score

7,041
Level

2
Awards

5
v1.6.48
Lawless Roleplay turned seven years old. When we first created this community we wanted to create an environment purely dictated and controlled by the players, that's where we got our "for the players, by the players" motto. Ever since, we have been working hard with our community to ensure we meet that motto and continue being the gold standard for SA-MP communities. I would like to thank every single member of this community for their loyalty, trust and dedication throughout the years - without you, we could have not done it. We have an awesome 2020 ahead of us. I am so hyped up about it.
Thanks to you, there have been 3, 792, 663 combined hours played on Lawless Roleplay. That equates to nearly 433 years worth of entertainment, rage quits, fights, laughter, drama and most importantly friendship. My mind is blown and I just want to thank everyone for such an amazing achievement and for allowing me to be apart of this community with you.
At Lawless Roleplay, we take our community's security seriously. We've been busy brainstorming the past few weeks on how we can secure our community's security even more especially as other large and small communities are being comprimised.
One of the leading methods is using a method called Time-Based One-Time Password Algorithm (TOTP) or two factor authentication (2FA) as you may know it as. We have developed our own custom API and system that is fully RFC 6238 compliant.
Players who set up 2FA will be asked for a one time only use code when they login and again after 30 days or if they have a new IP address. This is one of the most advanced ways to secure your account.
Our lovely admin
@Christo Axe
has made a short video demostrating on how to enable and use two factor authentication on Lawless Roleplay:
Players in jail can now request a lawyer to attend their case and help defend them against lengthy jail times.
Lawyers can flag themselves up as on duty for pro-bono cases whenever they feel like it.
WOW! What an awesome birthday week that was, Lawless Roleplay turned SEVEN years old.
Anyway, the city is a mess and the streets are filled with party decorations so the city is paying garbage men and street sweepers double to clean our city! Hooray!
* This event will be going on from 22nd April - 30th April only
​
Code:
- Scripted our own custom two factor authentication (2FA) API which works with all 2FA Apps as it is based on universal standard RFC 6238 time-based one-time password algorithm
- Scripted new two factor authentication (2FA) login which can be enabled via /settings
- Players must verify their 2FA login every 30 days or when they have a new IP address
- Added new /service lawyer
- Lawyers can use /jobduty to get on duty and receive /service lawyer commands
- Renamed /mechduty to /jobduty
- Players can disable their own 2FA via /settings
- Removed chainsaw and knife from event store
- Adjusted anticheat for maze 1 and maze 2
- Fixed a bug where if a boat with a crate would explode and players would not be able to load it up or use /crate locate
- Fixed a bug with treasure hunt dm removal (no testing required)
- Removed dumpsters by new church interior
- Disabled double robbery and half price weed rewards
- You now need to verify your 2FA code when attempting to change your password via /changepass
- Added new double sweeper and garbage man job pay
- Disabled all anniversary events and maps
- Please fully test server based events (/joinevent)
- Disabled login reward
- Removed /covid19 command so now it is up to players to cure themselves all or to continue infecting eachother
- Fixed /beginevent
- Fixed /toggletk
- Fixed /eventkick
​
Media & Marketing Department
Development Team
Multimedia Team
Administrator Team
Whole Lawless Roleplay Community
​
​