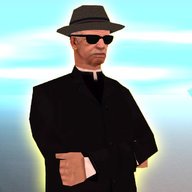 Joined

Apr 11, 2013
Messages

10,645
Reaction score

7,041
Level

2
Awards

5
In a time of violence and outlaws ruling the city of Los Santos. The Government has no choice but to call in the...
Our mission statement to you...
Lawless Roleplay is, and always, will be a community first and a game server second. We are dedicated to fostering an environment with a member-centric approach where all players have equal potential for in game success and community recognition.
Why play here?
Lawless Roleplay was originally founded on the principle that all players should rise or decline based on the actions of the person behind the player. We feel that success should be determined by a players actions and talents and not the whim of an administrative team. We have great code. We have great staff. We have great players. But most importantly we have a vigilant regard for your potential.
Is this a roleplay server?
We have worked to provide many in game tools for roleplay and it is absolutely encouraged however not required. We feel that any preferred mode of play that does not encroach on any other player's enjoyment of the game is productive. Due to the harsh nature of game mode frequent player versus player violent interaction should be expected. However, this does not mean that players are allowed to kill other players for no reason.
Update 0.9.36 Overview
​
​
The streets of Los Santos has never been this dark. Death is around the corner for everyone and well... the outlaws now rule the once beautiful city. It was a dark moment, when the Government knew it had to call in the Army to get back order. The National Guard is in town.
This is an elite faction which is governed by strict roleplay rules with the sole purpose of adding a new dynamic into the scene. Invitation is by selection only and will be of strong roleplayers only.
Update logs
The list below are raw change logs and are often not coherent.
Bug Fixes
Code:
- Fixed a bug where prison doors would not reset once broken
- Fixed a bug where the bank objects would not reset once broken
- Fixed a typo with ffs
- Fixed /tow
- Fixed sound
- Fixed factions
- Fixed /g spam from UCP
- Fixed /destroyflare
- Fixed a bug with TabToAvoidCheck
- Fixed a bug with /helpme being redirected to /newb if no helpers are online but moderators are online
- Fixed an exploit which exposed hidden doors by using /lockdoor
Features
Code:
- Added new Army faction (ID 7)
- Added new Army base
- Added new Army /locker
- Added new Army vehicles
- You can only change your job every 60 minutes now
- You can quit your job at any time but must wait 1 hour to join another one
- If you quit your job, you can join another job after one hour
- You will get notified at paycheck when you can join another job
- Added warnings into /join
- You can now load up to $400 in one go in bank robberies
- Increased max payload to $40, 000 (rob bank)
- Updated includes
- Updated processbar plugin
- Updated command processor to be faster
- Added YSI plugin fixes
- Increased VEHICLE_RESPAWN to 3600 from 2700
- Added new admin command titled /psettings
- /newbme now sets your health to something random as well as your armor
- /newbme sets your level to something random (max level 7)
- /newbme sets your skin to something random as well
- /newbme sets your phone number to something random
- Decreased maximum fish weight and price
- Decreased forklift money payout
-- Level 1 Forklift: $40-55
-- Level 2 Forklift: $60-85
-- Level 3 Forklift: $100-115
-- Level 4 Forklift: $140-155
-- Level 5 Forklift: $180-195
- Increased chance of winning upto $25, 000 in delivering an ultra valuable crate
- Increased /sellcar payout (up to $700)
- Sell car payout goes to the owner of the Auto Export Company turf (gang will get 50% of profit)
- Decreased waiting time for /robhouse and /robstore to 10 minutes
- Added new c-bug detection method to prevent people from c-bugging
- Made OnPlayerWeaponShot system desync fast bullets
- Made all server made /me's to use the prefix "** Barney Phife uses his cellphone" whilst player written /me's will be "* Barney Phife uses his cellphone". Notice the '*' count.
- Added new /me to /find
- Desynced the night vision and thermal vision goggles
- Added army to /mdc members online segment
- Added /kcp as a shortcut to /killcheckpoint
- Newbie who haven't played 5 hours, can change jobs without any time limit
I would like to take this opportunity to personally thank all the beta testers, senior players, helpers, administrators, mappers, developers and everyone involved with this update. They have worked extremely hard on this update.