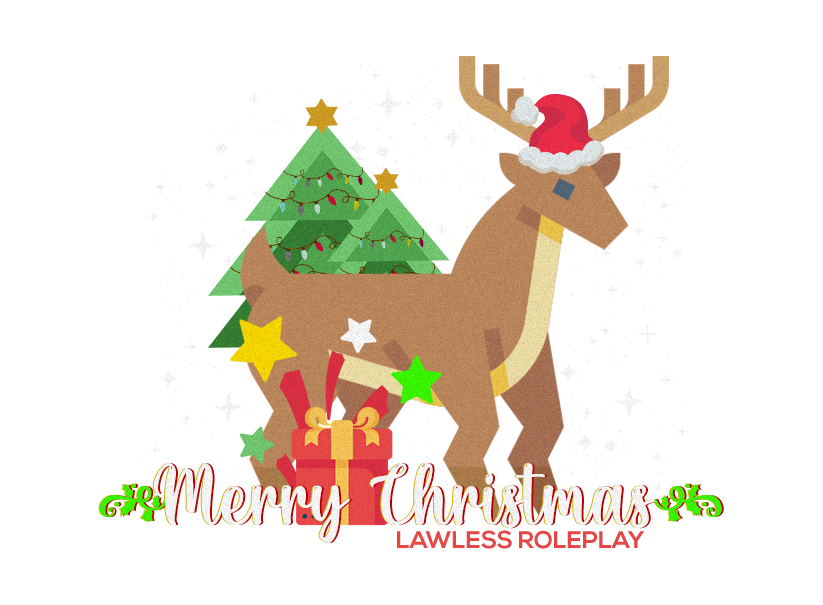 v2.1.50
Merry Christmas Lawless Roleplay!
We have all been though a really tough year especially with the pandemic and other challenges but Christmas is such a special time for us all. It is the time of year where we see family, exchange gifts, laugh and eat together. Lawless Roleplay is a huge family and this is our EIGTH Christmas spent together!
I wish for all members of Lawless Roleplay as well as their families to be safe and healthy.
With that said, let the festive games begin!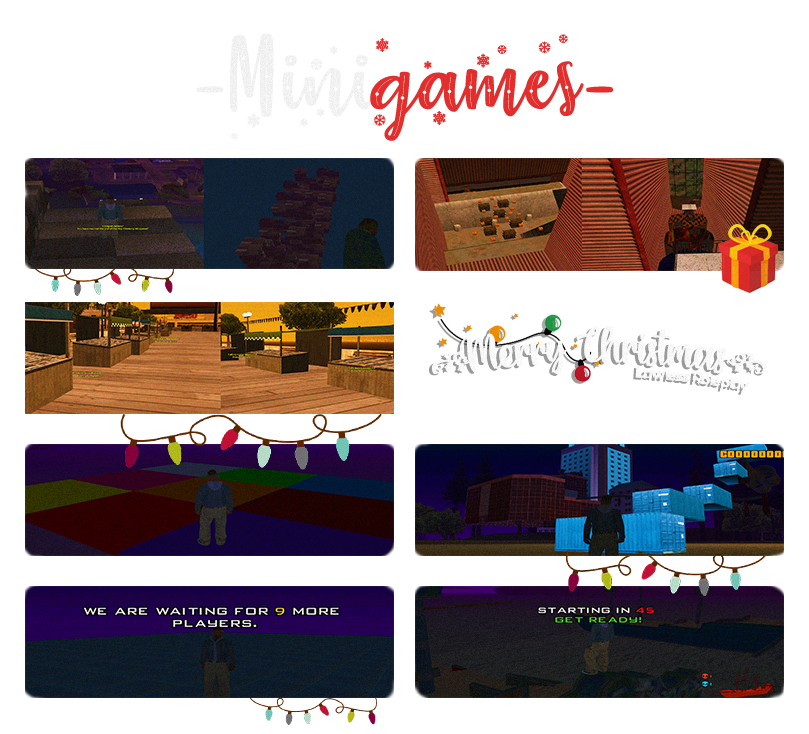 The Christmas Market is back again this year!
You can play seven minigames with a new maze this year! If you win or complete the minigames, you earn coins to spend in the Christmas shop below.
The Christmas Market is located at the Casino Car Park:
Crate Fall Challenge
Players stand on a platform made of crates, the crates slowly start falling taking players who stand on them off the platform to certain death. You need to jump and navigate through the falling crates to be the last one standing!
Climbing Mini-game
This game has made me rage so much, climb the tower, get to the top and earn some coins!
Maze
I had to bring this back again for the 7th year. By now most people have memorised the maze but it's still so fun!
Maze 2
Brand new maze! Complete it to earn awesome coins!
Color Match
My personal favourite! You're on a colored platform, go to the right color when the screen says so. Last one standing wins!
Ship Wars
Another one of my personal favourites, it's a ship race, kill the rival team to make your ship go faster.
Hay Climbing
I am uninstalling this game, this minigame makes me rage so much but it's so fun and it gives you the most coins!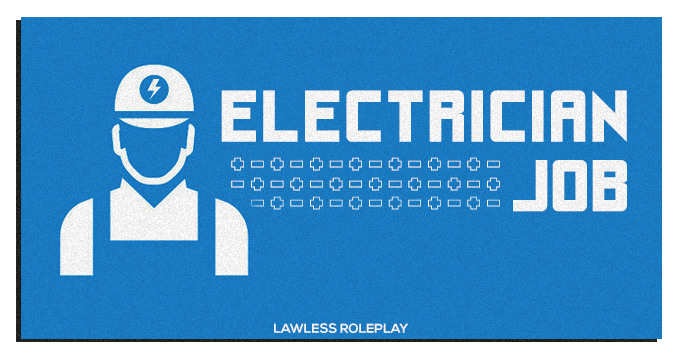 Innovation is in our blood at Lawless Roleplay.
I am so pleased to announce our latest career path for players.. the
Electrician
job! This has never been seen before on SA-MP!
This is the
highest paying job
on Lawless Roleplay
In this job, you need to repair power sources by matching the relevant cables to each other.
As you do this job and reach skill level 3 (/skills), you can drive one of the utility trucks outside to earn more money.
You can also earn more money depending on how quick you resolve the quiz.
Below is an example of how you connect the cables: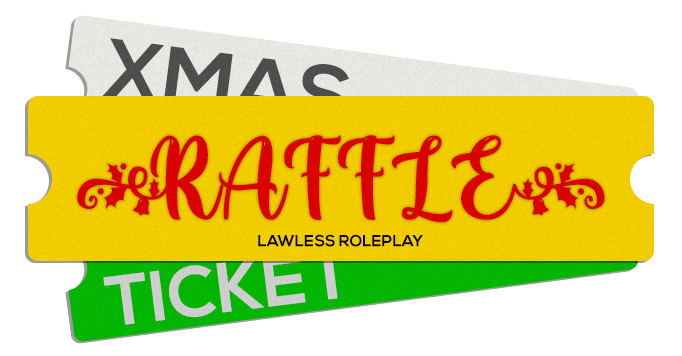 Santa is back for the EIGHTH year asking for more helpers! Santa has crashed and needs your help to deliver the presents. Each present you deliver, you automatically enter the CHRISTMAS GIVEAWAY!
Prizes
1x Land
1x Business
2x House
3x Ivy
4x Custom Tier 3 Vehicle
5x Custom "Santa's Helper 2021" Forum Title
The top 3 people who deliver the most presents will also receive a special prize.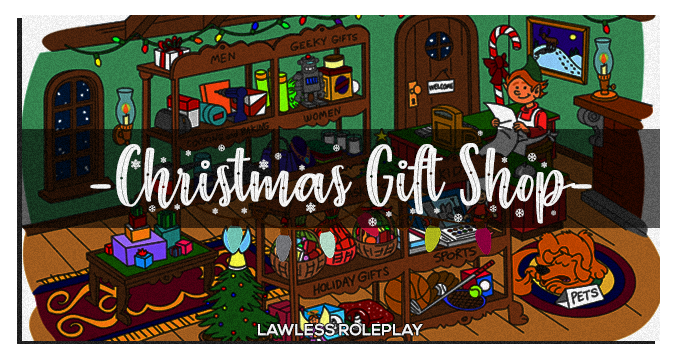 Play mini-games and earn Christmas Coins to spend in the Christmas Gift Shop!
The Christmas Shop is located at the Casino Car Park:
Buy things such as
Full Armor & Health
Weapons
Full Weapon Sets
Jetpacks
Server wide rewards
It's the season to be jolly la la la...
Get $15,000 FREE ON LOGGING IN THIS FESTIVE SEASON!
YES! FREE MONEY!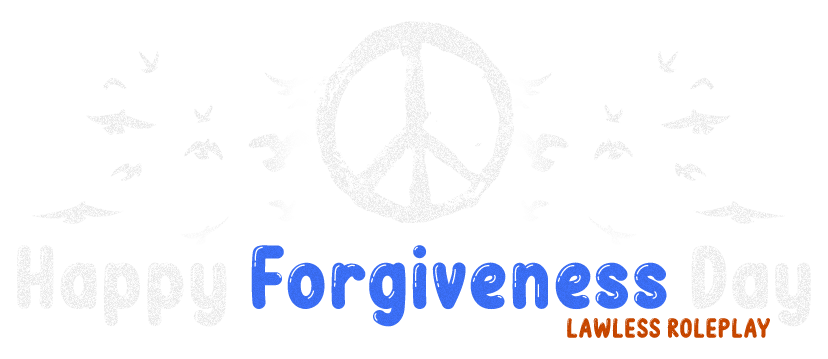 My e-mails are currently filled with players asking for forgiveness and for a chance to play with their friends again.
I admit, we are THE best SA-MP server out there and we have the BEST script so I don't blame the banned players for wanting a chance again.
However, banned players have often done too much damage which is why they are banned in the first place.
However, we are giving banned players the chance to appeal their ban to get unbanned and be able to play with their friends again.
All they need to do is complete this
form
and wait for us to unban them.
Code:
- Gangs will remain to receive a 25% discount for /sellgun in active turf bounds
- LEOs shutting down a full material route will not allow players to run materials using that route
- Enabled Christmas mode
- Increased hay climb minigame payout
- Decreased maze 1 minigame payout
- Fixed a bug where players could identify blacklist admins, undercover admins and hitmen via their punishment lists
- Hitman agents can no longer take hits on active duty admins
- Fix for admins that may roll back when switching from duty modes
- You can no longer accept a hit on an on duty or undercover admin
- Undercover and on duty admins will no longer be listed in HMA contracted list
- Added electrician job
- Added skill points for electrician job (/skills)
- Fixed HMA members showing on /mdc if they have used a passport
- Implemented Domi's map and added to /goto
- Electricians receive extra money based on how far each external repair point is
- Electricians receive extra money based on how fast they match the wires
- Changed the tutorial to make players join the electrician job
- Recoded /jobhelp and /findjob to recommend electrician as the first option and optimised it's code
- Get $15,000 for free
-  SANG can destroy the meth lab now also
The Lawless Roleplay team is encouraging you to follow, like, and subscribe to our Social Media pages! The benefits of supporting our social media are significant as we are hosting constant giveaways for our players, meaning if you like, follow, or subscribe to our Social Media pages; you are first to see the giveaway!
Follow us on YouTube as we will be giving away some big prizes soon like the
LUNATIC PACKAGE


If you have made it this far down the thread, it must mean that you love Lawless Roleplay. We are reviewing all existing bans (permanent or temporary) and invite those affected to make a ban appeal. This is not a mass unban and there are no guarantees that you will be unbanned. Each ban appeal will be reviewed independently and the decision will be based on merit.
​
Public Relations
Development Team
Administrator Team
Whole Lawless Community
Last edited: