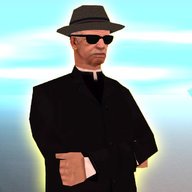 Joined

Apr 11, 2013
Messages

10,680
Reaction score

7,305
Level

2
Awards

5
v1.8.44
Merry Christmas Lawless Roleplay! Christmas is always a very special time of year and this year it will be more special than any other years due to the worldwide pandemic. I hope all members of the Lawless Roleplay community as well as their families are safe and healthy.
This Christmas, we have not skipped out on any of the stops. This is the biggest Christmas Events we have ever hosted!
* event expires 1st Jan 2021
Let the festive games begin!
The six most popular mini-games are back this year! This time, they give you awesome coins to spend in our Christmas shop below.
The Christmas Market is located at the Bank Car Park:
Crate Fall Challenge
Players stand on a platform made of crates, the crates slowly start falling taking players who stand on them off the platform to certain death. You need to jump and navigate through the falling crates to be the last one standing!
Climbing Mini-game
This game has made me rage so much, climb the tower, get to the top and earn some coins!
Maze
I had to bring this back again for the 7th year. By now most people have memorised the maze but it's still so fun!
Color Match
My personal favourite! You're on a colored platform, go to the right color when the screen says so. Last one standing wins!
Ship Wars
Another one of my personal favourites, it's a ship race, kill the rival team to make your ship go faster.
Hay Climbing
I am uninstalling this game, this minigame makes me rage so much.
Santa is back for the SEVENTH year asking for more helpers! Santa has crashed and needs your help to deliver the presents. Each present you deliver, you automatically enter the CHRISTMAS GIVEAWAY!
Prizes
1x Land
1x Business
2x House
3x Ivy
4x Custom Tier 3 Car
5x Custom "Santa's Helper 2020" Forum Title
The top 3 people who deliver the most presents will also receive a special prize.
Play mini-games and earn Christmas Coins to spend in the Christmas Gift Shop!
The Christmas Shop is located at the Bank Car Park:
Buy things such as
Full Armor & Health
Weapons
Full Weapon Sets
Jetpacks
Server wide rewards
It's the season to be jolly la la la...
Get $15,000 FREE ON LOGGING IN THIS FESTIVE SEASON!
YES! FREE MONEY!
We all know that Santa is a badass, that's why you get DOUBLE pay when robbing anything
Use /violence to see robbery commands
People need Christmas trees! The local Lumberjack Foundation is paying TRIPLE due to high demand this year!
Use /findjob to locate this job
Christmas is always a time where the crime rate increases with all these presents being robbed.
City Hall is paying cops DOUBLE for any shut downs they make.
Demand for drugs have increased.. must be all the lonely people trying to get high to forget their misery...
Earn DOUBLE pay by capturing the Drug Den Turf.
Burnt your turkey? No worries, order a pizza!
Pizza Drivers earn DOUBLE PAY during this festive period.
Use /findjob to locate this job
Earn TRIPLE pay by diving into the COLD waters of Los Santos looking for treasure!
You may pick up a very valuable item worth loads of money...
Use /findjob to locate this job
Get 20% OFF when crafting any last minute Christmas
bombs
gifts
Use /findjob to locate this job
Code:
- FREE $15,000 for players
- Enabled Christmas radio
- Enabled Christmas coins
- Added /topcollectors
- Enabled Raffle
- Enabled Cratefall
- Enabled Climbing
- Enabled Maze
- Updated the area based Christmas radio
- Raffle is the yearly raffle we have with delivering santa's presents as he crashed (CMDs: /topraffle /getpresent /christmashelp)
- Added duplication protection to the gift store
- Added anti-tp hacks module integration to christmas raffle
- /setarmorall no longer effects events or prisons
- Christmas presents now automatically drop when you use /killcheckpoints
- Added new Christmas Textdraw designed by Thomas
- Fixed /craft gps
- You no longer can join the minigames while wanted by police
- Adjusted logic around lands and sniper damage
The Lawless Roleplay team is encouraging you to follow, like, and subscribe to our Social Media pages! The benefits of supporting our social media are significant as we are hosting constant giveaways for our players, meaning if you like, follow, or subscribe to our Social Media pages; you are first to see the giveaway!
Follow us on YouTube as we will be giving away some big prizes soon like the
LUNATIC PACKAGE


If you have made it this far down the thread, it must mean that you love Lawless Roleplay. We are reviewing all existing bans (permanent or temporary) and invite those affected to make a ban appeal. This is not a mass unban and there are no guarantees that you will be unbanned. Each ban appeal will be reviewed independently and the decision will be based on merit.
​
Public Relations
Development Team
Administrator Team
Whole Lawless Community