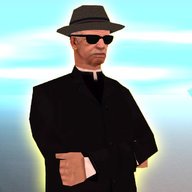 Joined

Apr 11, 2013
Messages

10,644
Reaction score

7,041
Level

2
Awards

5
Development Team
​
The development team has struggled in the past year and this has crippled our ambitions and desire to provide cutting edge features. I am the sole developer and combined with my management responsibilities – I hardly find the time to develop and manage the server at the same time. Today, we want to get out of this gridlock and get the community more involved and engaged by opening the development department to the community. A community made by players, for players.
The development department is made of three sub-departments: Scripting, Mapping and Testing Teams. The development team's role is to provide the server with the tools and functionality to enable everyone to have ultimate fun.
The scripting team's main responsibility is to update the script with new features, bug fixes and to ensure the in-game mechanics are running smoothly. The scripting team will be led by myself and community members can apply for positions such as Senior Scripter and Junior Scripter. Senior scripters have direct access to the script and are able to make global changes while Junior scripters have access to the API code and will only be able to create modules/ systems. All work is then reviewed and verified by myself or assigned Senior Scripters before they are implemented.
The beta testing team will test new scripts/ maps, find/ confirm bugs, exploits in all of our services. We are currently accepting applications for leadership for the beta team. We are looking for someone with basic experience of SA-MP development, solid knowledge of the Grand Theft Auto San Andreas game engine and a desire to lead. The leader should have very strong communication and language skills. The beta testing team is made of a Lead Beta Tester, Assistant Lead Beta Tester and Testers. Running this team will really allow you to make a great name for yourself by establishing this team from the ground up. You can become a legend by building the foundation of this new department.
The mapping team use specialised tools designed by myself to create amazing realistic buildings and interiors. We are currently accepting applications for leadership for the mapping team. We are looking for someone to breathe fresh air into the recently closed department and to revive its old ways. The lead mapper does not need any scripting knowledge but will need to have an eye for detail, realism and have very strong organisational skills. This department is made of a lead mapper, assistant lead mapper and mappers.
All roles in the development team are paid roles. You will be paid in server credits which you can spend buying donation perks. The chosen leaders of both the Mapping and Beta Tester Team can negotiate the exact rewards and perks for their team. This allows the leaders to really stamp their name in the server history.
If you are interested in becoming the Lead Mapper or Lead Beta Tester then please fill in the application below and send it via e-mail to: barney [at] lawlessrp [dot] com. The deadline for applications are on 22 October 2016.
You will receive feedback on your application and by 24 October 2016, successful applicants will be invited for an interview. We will then pick the leaders based on the individual's performance in the application and interview.
Applications are closed.
Application Form
Position: Lead Mapper/ Lead Beta Tester
First Name: (real life name)
Surname: (real life name)
Character names (ie. name – level – affiliation):
City:
Country:
Date of Birth: dd/mm/yyyy
When did you join the server?
Have you played any other servers? If so, please list which servers you've played with character names:
Please list any past punishments with details received at Lawless Roleplay:
Who is your favourite admin? Why?
Who is your least favourite admin? Why?
What year in the past was your favourite year and why?
What do you think makes a leader great?
What is professionalism?
What do you need to do as a department leader to be professional?
Why do you want to lead the department?
Additional Information:

For applications for Lead Mapper, please attach images/ videos of your portfolio.
If you have any questions about the applications then please shoot me an e-mail to barney [at] lawlessrp [dot] com.
Last edited: