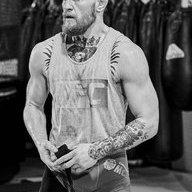 Retired Admin
Joined

Dec 11, 2014
Messages

1,464
Reaction score

720
Police Department succeeded to arrest the most wanted.
By: Quatro Variez | April 13, 2015​
(Police Officers trying to catch a most wanted suspect.)
​

Santa Maria Beach, Los Santos - Another success for the L.S.P.D today. Sunday night, a 23 year-old man named R. Tucker managed to get away from the L.S.P.D jail after he was sentenced for two years for manslaughter. The suspect reached his friend's land in Santa Maria Beach and he used the land as shelter. The police couldn't find a way to get the suspect out of the land, nor a way into the land. After around 30 minutes, the suspect was forced to leave the shelter, a citizen named 'Austin Stoglin' sneaked into the land and forced him out. The suspect was armed, thank God those two brave police officers got away with light injuries.

(Two police officers taking down the most wanted suspect.)
​
After a long fight with the suspect, police officers Josh Eriq and Christopher Wilson, with the help of Mr. Stoglin, managed to injure the suspect. Fortunately no one got critically injured from the officers, and the suspect has been thrown back to jail where he belongs!

((
You can post a comment by using this format:
))