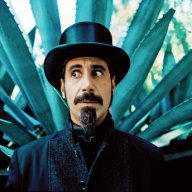 Joined

May 4, 2015
Messages

23
Reaction score

32
Las Venturas Governor Takes Mindblowing Shot
By: Joel Allen | May 6, 2015​
(Road sign near incident)
​
The Strip, Las Venturas -
Following the events of the disaster in San Fierro (covered here), governors of San Andreas decided to hold a conference in a luxury room in the four dragons casino and hotel. Trying to get coverage as a followup to previous information regarding the earthquake, many multi-media teams were set up outside when a loud shot was heard from behind. The governor of Las Venturas was fatally hit on the head and fell to the ground in front of the news teams, gruesomely, his head in several pieces a few metres away from him down the road. Under-fire, people ran from the scene as they tried to comprehend what was going on. Many people took refuge in a local parking lot to avoid the conflict.
(The supposed sniper)
​
The sniper was later seen standing on top of one of the largest hotels and casinos in Las Venturas. He stood on the edge of the building showing himself off to the public, he fled after emergency services turned up. The LVPD SWAT team was dispatched and quickly armed themselves and camped-out on top of the opposing hotel. There was a 20 minute shootout before the suspect was seen flying away in a helicopter back towards
Los Santos
. Now this is where things get edgy, the helicopter was all black. All black helicopters are only allowed to be flown by two government departments, the Federal Bureau of Investigations and the Secret Service/National guard. As well as that, the LVPD's Forensics Unit has confirmed that the only way the governors injuries could of been as severe, as they were, is if they were dealt by a high-caliber government issued weapon. Could it be that it was a planned assassination?
(Blurred image of the Governor)

​
As we see here, the governor was left in full public view for at least an hour until the LVPD deemed it safe for the LVFMD to move in and secure the body. The mayor of Los Santos, Barney Phife, has issued no further statement of the event and the Mayor of San Fierro, Johnson Jacob, has denied requests from news teams to speak to him, commenting: "We're in a time of great trouble, now is not the time to tarnish the nation". Will more details ever be released about these troubles or is there more the government is hiding from us?
((
You can post a comment by using this format:
))