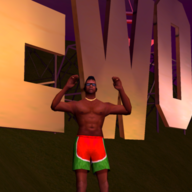 Joined

Mar 29, 2015
Messages

32
Reaction score

60
Barney Phife Vs. Johnny Vincre
By: Xathas Sunfell | May 22, 2015​
The time to vote has come! Antoine Keef as been eliminated as a candidate due to a lack of votes. Mayor Phife has accepted Johnny Vincre's challenge to the seat for mayor, and would like you the people to vote for whether you want a new mayor, or to keep the same mayor. It is my great honor to present to you the candidates for the 2015 Mayor election!

(Barney Phife being escorted by armed guards)
​
You all know our current mayor, Barney Phife. He was accepting of the people's opinions and has granted us, the people of Los Santos, the right to vote for a new mayor. However, he has made it clear that he wishes to remain in office for as long as possible. Mr. Phife was unavailable for an interview. However, his stance on the subjects in question is quite simple: he does not wish there to be any immediate change.
(Johnny Vincre's interview has been re-printed for anyone who has not read the previous article)
(Johnny Vincre)
​

Johnny Vincre's Interview can be read on our website : www.sanews.org/a-new-mayor-for-los-santos.php

Below are some pictures of Mr. Vincre's campaign.
​
Johnny Vincre visiting Mayor Phife's extraordinary mansion for a discussion about the election.
Johnny Vincre giving a speech outside of the City hall.
It is now time to vote! Please choose wisely as your vote is final. The voting will continue for 2 1/2 days(60 hours).
((
You can post a comment by using this format:
))