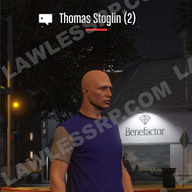 Senior Administrator
Junior Developer
Lead Beta Tester
Old School
Joined

Aug 15, 2015
Messages

1,424
Reaction score

301
Level

1
Awards

4
v2.0.23
Ladies and gents, I know we always say that this is the best update we have ever made but truly, this update is the
BEST WE HAVE EVER MADE
. No
!
This update brings a unique and new dynamic to Lawless Roleplay that has been meticulously designed and developed to completely change how you play and interact with other players on Lawless Roleplay.
We have reduced the distance that players can see other player names as well as reducing the distance of all action-based messages (eg. /me and /do).
We have done this to ensure that players always experience the best level of gameplay as well as roleplay.
During the development stage of this, we invited multiple players including admins, gang members and faction members until we were able to fine-tune the distance to be just right.
The San Andreas Government in partnership with Angel Pine Sheriff's Department have declared a lockdown in Angel Pine due to heavy drug trafficking into Los Santos.
As a result, only Angel Pine citizens may enter Angel Pine.
Non-citizens are not encouraged to enter and it is a criminal offence if they do enter.
Be sure to apply for Angel Pine citizenship status to obtain an Angel Pine ID!
With the government election, the current Governor has ordered that all ID cards must be updated for all citizens of San Andreas. This has been automatically rolled out and all citizens received a new ID card in their mail.
This is partly due to an increase in population as well as the new identification based lockdown in Angel Pine.
New design for "/showid" in-game!
Heavy load of materials is on a 50% discount per run.
Delivering materials to the factory will give you 50% bonus materials as per their current promo.
Convenience stores now have a cart and multibuy system so the citizens could buy with ease!
We have also released 3 new 24/7 interiors that business owners can unlock.
Press "n" inside a 24/7 in-game to access this new feature.
A rogue Lebanese scientist who has been declined asylum in San Andreas has released their Methamphetamine cooking guide online free for all to see on the Bulletin Board!
It's making people all over San Andreas go crazy and people are seeing red mist!
Criminals especially in Angel Pine are mass-producing thousands of grams of methamphetamine for distribution all over San Andreas which is why the Governor has ordered a lockdown in Angel Pine.
Using meth will allow players to receive 50% less damage from bullet based weapons for 90-180 seconds depending on their junkie perk.

A new junkie perk has been added and it is unlocked at level 16 (/upgrade). It increases the effect time of using methamphetamine.

Players must either cook or buy meth.

To cook, a player must be renting or owning a house in Angel Pine. They will need to buy some new items added to the 24/7 stores. With this they will set up a lab in their house. They then must obtain four chemicals (Methylamine, Hydrochloric Acid, Gasoline and Phenylacetone) via missions that include stealing a van and delivering it to a mob boss, fighting security guards and hijacking a pharmaceutical warehouse, blowing up a container and buying underground gasoline.

Once all the chemicals have been obtained, the player can start cooking meth in their house. They will need to ensure they put in the right amount of ingredients and keep the temperate right. Friends can assist during the cook to increase the purity of the cook. The purer the meth, the more yield of meth you will receive.

But be careful! Police can see the smoke from the cook and can destroy the lab!

We have placed a multitude of houses in Angel Pine that is open for rent and we are issuing Angel Pine citizens with their IDs.

As you might expect, this update is too big for just words. So we are running a competition, make a quick video demoing the meth update and if we like it, you'll get a free premium house in Angel Pine to keep forever. We'll upgrade your junkie perk to level 5 and give you plenty of meth! To enter, post the video in a new topic in the
General Discussion forum
!

There can be unlimited winners in this competition. But hurry! Competition will end soon!

While we wait for that.. enjoy some screenshots!
Code:
- Adjusted paycheck tax calculation
- Updated Oryx Island
- Fixed a bug with bank robbery
- Fixed damage bug with falling, /kill and /duel
- Fixed pilot job teleport ban for laggy players
- Added /listmobileplayers
- Changed escape period from bank robbery to 30 minutes from 20 minutes
- Successfully robbed bank money is deducted directly from the government tax balance as part of an insurance deal between the government and bank
- Only SWAT (division 5) can get tactical in LSPD
- Removed MP5 from tactical loadout for LSPD
- Adjusted government bill for SWAT tactical loadout to reflect MP5 removal
- Adjusted global and player textdraw logic
- Reduced bandwidth usage to players
- Updated house API to 2.0
- You cannot /accept house while you are already renting the house you wanna buy
- When you buy a house it will automatically decide if it should be in house slot 1 or 2 via /accept house
- Fire module updated to 2.0
- Government no longer pays for toys in factions and players must pay themselves
- Government now gains 35% of dicebet fees (roughly 1.75% and 4.2% of total bet)
- Government budget now gets DMV payments and police ticket payments
- Added punlist update when a player gets a cheater tag or a cheater tag is removed (works both online and offline)
- /deliver, /arrest and /bail money now directly goes to the Government
- Adjusted government costs
- Crate island now is every 41 hours
- Renters for all houses have been reset and are now in line with House API 2.0 (sorry people)
- House renters are automatically kicked if a house is sold or deleted
- You can now rent a house even if you own a house
- Min rent is now $100 and max is $10,000
- Updated /taxhelp to pull in dynamic values
- Fixed /nmute and /gmute for moderators and SH
- Module API updated to 2.0
- You can now only use /colorcar and /paintcar when a vehicle is stationary
- You can now paint other people's vehicles or faction vehicles but the colour won't save
- You no longer need to be the driver to paint a vehicle, just inside it
The Lawless Roleplay team encourages you to follow, like, and subscribe to our Social Media pages! The benefit of supporting our social media is significant as we are hosting constant giveaways for our players, meaning if you like, follow, or subscribe to our Social Media pages, you are first to see the giveaway!
​
Public Relations
Development Team
Administrator Team
Whole Lawless Community