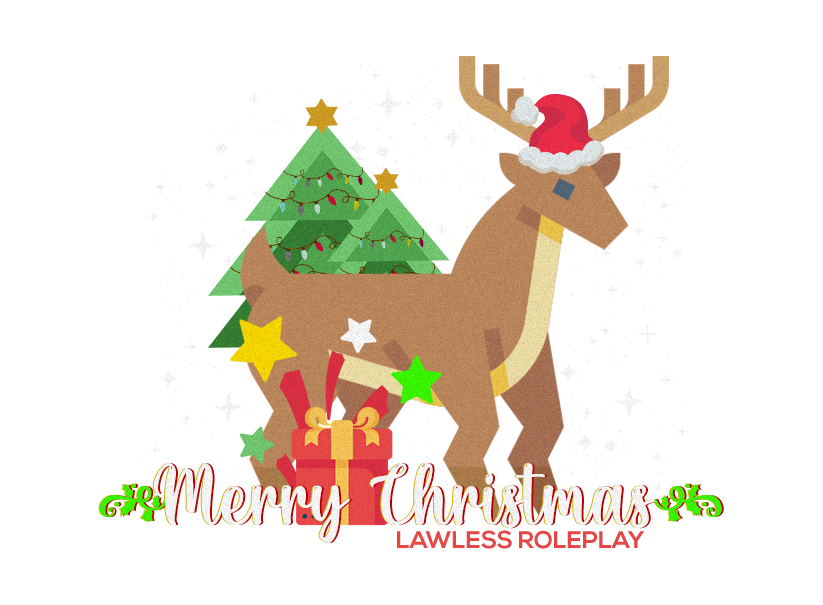 v2.2.40
Merry
Christmas
,
Lawless Roleplay!
It's the session to deathmatch la la la... Oops, wrong intro!
It is Christmas time lunatics and for the
NINTH
year in a row, it is time for our traditional Christmas update.
This year we have an awesome update in line with the traditional minigames but a brand new Christmas market and a duel bet system!
I wish all members of Lawless Roleplay, as well as their families, to be safe, and healthy, and to have a wonderful Christmas and new year!
With that being said, let the festive games begin!
Oh wait - make sure you read the bottom of the thread for a free gift
The Christmas minigames are back!
The same as last year you can play up to seven minigames, where you can win coins by completing them and then trade those coins for rewards in the Christmas gift shop.
The Christmas minigames, the gift shop and the Christmas Raffle are located near the headquarters of the Los Santos Police Department.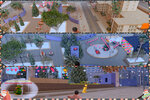 - The Location of Mini-Games and The Christmas Raffle -
- The Minigames -
Crate Fall Challenge
Crates are used as a platform for the players to stand on
As the crates slowly begin to fall, they knock any players standing on them off the platform and into definite death
To be the last person remaining, you must leap and weave through the falling crates!
Climbing Minigame
As we all know this one is the game that made us rage every year
Climb up a weird building by beating moving objects to get some coins!
Maze 1
One of our favourite minigames of all time! This maze is older than some of you guys playing.
We had to bring it back this year!
Maze 2
This second maze is a much younger and improved maze
Reach the end and earn coins. Earn more the faster you finish it.
Colour Match
You're on a coloured platform, go to the right colour when the screen says so. The last one standing wins!
Ship Wars
Another one of my particular favourites is a ship race, in which you must destroy the opposing team in order for your ship to move more quicker.
Hay Climbing
Same as the "Climbing Mini-Game." it always makes us rage.. but it gives the most coins if you complete it!
These are the incredible gifts that you can purchase using the coins you earned from playing the minigames.
This year we have a new Christmas Hat with new writing on it!
This year, Santa needs your assistance to finish delivering all of the Christmas gifts on time.

With each present you assist Santa in delivering, you are immediately entered into a Santa Claus giveaway!

The more you contribute, the more opportunities you have to win!

You have a huge task ahead of you, but the presents will be stunning and extremely valuable, so get ready!

Only the top five Santa's helpers will receive one of the following prizes!!

1st:

- 1x Small Land + NRG-500 -



2nd

- Tier 2 Business - Imported House -



3rd:

-

-

Dynamic Door - Tier 3 Vehicle -



4th

:

- IVY Donator 30 Days - NRG-500 -



5th

:

- Rose Donator 30 Days - Mountain Bike -
We're happy to let you guys know that we have implemented a brand new LSPD Interior HQ!
I am pleased that government money is being used well on paint and bricks instead of social housing
We are super excited to announce that we have implemented a new Duel System, as well as a new Duel area.
Where you may now duel each other for money by using "/duel" and "/accept duel" to accept the duel, and the winner gets it all.
- Location and The New Duel Arena Interior -

- Location-
In front of Paint-ball


- Interior of Duel Arena -
Players that have Rose+ Donator can wager between $0 and $150,000 and won't be taxed on their earnings. (Duel)
Non-donator players can wager between $100 and $50000 and must pay profits sales tax (determined by the government) (Duel)
The winner of each duel will be announced to players in the area outside dueling arena.



In celebration of Christmas, we are giving every player 7 days of IVY absolutely free of charge, all you need to do is log in anytime on the 25th of December (server time) and ensure your account has over 100 respect points.
If you have a donation status already, it will be extended by 7 days.
​
Code:
- Disabled double miner and trucker pay
- Updated Christmas radio near event zones
- Enabled fireworks, event coins, Christmas fair map, Christmas raffle  code
- Enabled maze 1, maze 2, ship wars, climbing, color match, hay climb minigame
- Login on Christmas day with over 100 playing hours to get 7 days of Ivy for FREE!
- Implemented new LSPD interior with buttons, offices and jail cells
- Moved LSPD interior lockers and detective job
- Coded duel arena bets outside of paintball
- Players can use /duel to bet each other for the duel winnings
- Rose+ donators can bet from $0-$150,000 and will not pay any tax on winnings
- Other players can bet from $1000-$50000 and will pay sales tax on winnings (set by the government)
- When a duel is over, outside the duel arena the winner's name will be broadcasted to players nearby
- Implemented new custom map for the duel arena for bets
- Added new /goto for the duel arena for admin use
- Implemented new Christmas Pershing Square Map
- Moved all minigames to that location
- Updated christmas raffle locations


The Lawless Roleplay team encourages you to follow, like, and subscribe to our Social Media pages! The benefit of supporting our social media is significant as we are hosting constant giveaways for our players, meaning if you like, follow, or subscribe to our Social Media pages, you are first to see the giveaway!


​
Public Relations
Administrative Team
Whole Lawless Community
Last edited by a moderator: