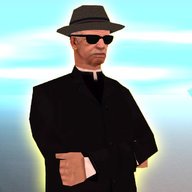 Joined

Apr 11, 2013
Messages

10,606
Reaction score

6,734
What is Lawless Roleplay, and why play here?
Lawless Roleplay is a roleplay server based on the surroundings of the classic game Grand Theft Auto: San Andreas and mostly focuses on the City of Los Santos, which is filled with chaos and corruption. This community was founded back in 2013, in April and quickly gained popularity among the fellow SA:MP players.
Since then, we have been strictly following our mission statement by being a community first and a game server second. We've dedicated our time fostering an environment with such an approach where every player has an equal potential of in-game success and community recognition, and will hopefully continue in doing so.
Lawless Roleplay believes that the key to a person's success is behind the actions he takes, and the talents he comprises. We believe how he chooses to use those talents and act is up to him and in no way, whatsoever, should be influenced by the Administrative Team. We have great code. We have great staff. We have great players. But most importantly, we have a vigilant regard for your potential.
Server Statistics
To this point, since 24th April 2013, we've had over 7,685,040 logins, 8,346,299 connections, 49,612 hours of uptime, 2,471,289 deaths and 32,626 hackers auto-banned!
The playtime event has arrived! A few years before a decade is a time to celebrate this jaunt. Seven years of dedication in providing you with a server where you can play, enjoy, and indulge yourselves in creating stories in a beautiful gaming experience. This anniversary isn't just about us, but about you as well. So it's time for you to invite your friends, play, and create more memories!
A quick flashback to two of the most potent gangs we ever had on Lawless Roleplay! Grove Street and Crenshaw dominated the gang life years ago. Grove Street, a color of prosperity and progress which symbolizes their theme as the Grove! Crenshaw, a shade of strength and danger which symbolizes their theme as the Bloods.
Players will receive the following weapons for the event:

Time:
3rd of May
Reward:
Tier 1 Business
​

Aha! We are here to race together with our shabby players.
The players that once taught us how to play in this server, their hair are probably grizzled now!
Time:
3rd of May
Reward:
Infernus + Garage (Dynamic Door)

Avoid the plane it is! This classic event will always make our day, even if it is old, whether you like it or not, avoid the plane will always be part of Lawless Roleplay!
Time:
4th of May
Reward:
Shamal
Whoopsie! Barney, it is! As a tribute to our community founder for his great work and never-ending love to us; And to return him with love, we will be having a deathmatch event with Barney's skin for he is the reason why this community exists right now!

Players will receive the following weapons for the event:


Time:
4th of May
Reward:
House and 50,000 materials
A very mysterious guy appeared and murdered our cat! Capture the wanted, dead or alive!
Time:
Done
Reward:
IG 50 dollars, Tier 3 Vehicle, and full weapon set.
​
An event where people can answer some questions related to the history of Lawless Roleplay!
So stay tuned for some quizzes in-game!

Time:
Done
Reward:
20,000 Materials per player who got the correct answer.

That's right, folks! Remember and share with us your very best and funniest experience on Lawless Roleplay!
To participate in this event, it is advisable to comment on the story down below!

Reward:
NRG-500
As part of this anniversary, we will also host a giveaway on Facebook and Instagram! It might be huge, so stay tuned!
The giveaway will
start on 17th April 2020, GMT+1,
and will
end on 30th April 2020, GMT+1
.
Reward:
Random Prizes
We are back again with another big giveaway!
We are just returning the favor to our lovely players for their loyalty.
How to enter the giveaway?
For those of you who have no idea about how to enter a gleam.io giveaway and are participating in one for the first time, here's how you enter the giveaway:
​
Login through any social media account, but bear in mind that you can only enter once using each social media account. The social media platforms choices that the giveaway offers are: Email, Facebook, Instagram, Soundcloud, and Twitter.

​

There are four ways to enter the giveaway, the more ways you enter through, the higher your chances become to win the giveaway.

​

Once the giveaway reaches its deadline, it will get closed automatically and will choose an entry itself. Whoever has that entry will win this lucky giveaway!

​
In order to participate, click on the image below:
The giveaway will
start on 22nd April 2020, GMT+1,
and will
end on 25th April 2020, GMT+1
.
Reward:
15 days Rose for 5 people.
We will be having a three day double XP starting from April 22 to April 24.
That's right, folks! Three days of double XP event! So what are you waiting for? Invite your friends as we will also be having a set of events!


You are the main reason why the server is still alive, but our community still needs your help!
We are encouraging you to support our server by donating! For more info, click here.


Minigames are back, everyone!
We have enabled the minigames for our lovely players! What are you waiting for? Let's have some fun!
* This event will be going on from 16th April - 23rd April only

We have enabled double (X2) earning money for robberies! This includes robbing the houses, businesses, and the BANK!
Prepare yourselves, outlaws! It's about to go down! Let the madness begin!

* This event will be going on from 16th April - 23rd April only


Due to the increased demand for weed, seeds are now 50% off and all the local smugglers are paying anyone who smuggles marijuana seeds DOUBLE!!

* This event will be going on from 16th April - 23rd April only


We want to ensure all our players have fun that's why this is back again! All players who have
8+ playing hours
will receive a
$50,000
gift on their
first log-in
!

What are you waiting for? Claim it now before it's too late!

* This event will be going on from 16th April - 23rd April only

IN CELEBRATION OF OUR 7TH BIRTHDAY, WE'RE GIVING AWAY 7 IVY PACKAGES AWAY!
All you have to do is join the raffle by going to the big buddah at spawn (the first place you spawn at when you sign up to the community). You will need at least 8 playing hours and $2000.
You can buy unlimited amounts of tickets however the more tickets you have, the better your chances at actually winning!
We're announcing the raffle winners on 24th April!
We've added some really new awesome maps; new church exterior which you can find by the Casino in Los Santos. Idlewood church now has a new interior. New fire department interior and an awesome podcast studio for a new project that's coming out soon!
​
​
Code:
- Double robbery rewards enabled for /robstore (items and safe money), /robhouse (items worth double), /loadmoney (you load double money, 40k cap still applies) and /sellcar now sells for double money
- Seeds are now half price via /getseeds
- Smuggling seeds now give double pay
- There is now 2% change for rain or fog weather
- Implemented new maze 2 minigame
- Implemented new fire dept interior
- Implemented new podcast host interior
- Implemented new church exterior by Casino
- Implemented new church interior
- Added new /marriagehelp command
- Added new 3d text at both church interiors for marriage commands
- Scripted new minigame module system from scratch
- Added event coins
- Using new central event token and event timer
- Enabled raffle
- NEW: Maze 2 minigame
- Updated climbing 1 minigame to use latest event style
- Updated color match minigame to use latest event style
- Updated crate fall minigame to use latest event style
- Updated hay climb minigame to use latest event style
- Updated maze minigame to use latest event style
- Updated ship wars minigame to use latest event style
- Fixed /editlandstore not working
- Fixed message on /finishrobbery to say 20 minutes instead of 30 minutes
- Enabled enterfix anticheat
- Fixed several mapping bugs with the anniversary map
- Donators can no longer use /fstoregun
- Cuffed or tied cops cannot use /su
- Fixed a bug where helpers show up as "0" when they use /nmute
- In the normal rollers, you can only bet up to $50,000 and in the high rollers you can now bet up to $10mil
- You can't use /aduty when in any event/minigame etc
- Pushed the /time textdraw slightly down to give space for credits + wanted stars
- Fixed an issue where you can get armor or guns while in an event with your first paycheck of the day gift
- You cannot use /su /deploycade /deployspikes /deployflare /deploycone /ad while being dragged, helper request, dead/ injured, recently shot or in jail
- Free armor/ health from event coins are no longer given to those in jail, events or paintball
- Fixed a bug where using /relog would duplicate event coin textdraw under money
- Added FD locker with 3d text
- Adjusted podcast interior text
- You cannot use /allhunt when a player is in an event, pb/ jail, dragged, tied, cuffed, helper duty or dead/injured
- Fixed the typo with /getcrate
- Disabled fisher man double pay rewards
- Disabled treasure hunt
​
Public Relations
Development Team
Multimedia Team
Administrator Team
Whole Lawless Roleplay Community
​
​