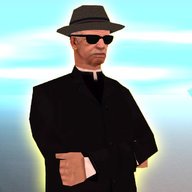 Joined

Apr 11, 2013
Messages

10,665
Reaction score

7,160
Level

2
Awards

5
Happy Easter
, Lunatics! We in the admin team wish you a day full of
blessings and happiness
, stay tuned for the upcoming events here at Lawless Roleplay!
Do you love bunnies? Well, you might not like this bunny!
We will have a
hunted event
as the first event on April 12!
Prize:
House + Random Prize
I assume all of us know this story! Do you have the confidence to win against the turtle?
Well, do not boost your confidence too much because the turtle might beat you!
We will have a
race event
on April 12!
Prize:
Infernus + 10,000 Materials
Ugliness does not exist in this world; we are all cuties because we live and play Lawless Roleplay as part of our life!
We will have a
TDM event
on April 12!
Prize:
Ivy 1 Month
Are you immune to sweating? We will see if you are up for
running
,
biking
, and
swimming
without giving up!
We will have a
triathlon event
on April 12!

The given route must be strictly followed, disobeying the said route will receive a removal from the event.
Prize:
NRG-500 + 10,000 Materials
Extras
As we all know, Easter Sunday is being celebrated together with their family and loved ones.
Capture a
photo
of your
family in-game
,
and you can add designs into it to make it pleasing.
Upload your photo on Imgur and comment it down here.

Prize:
Sultan to each family member
​
Before leaving, the Easter Bunny has decided to gift one of you cuties with a special prize!
But as he had trouble deciding whom to gift it to, he has agreed to host a giveaway for this prize!
How to enter the giveaway?
For those of you who have no idea about how to enter a gleam.io giveaway and are participating in one for the first time, here's how you enter the giveaway:
​
Login through any social media account, but bear in mind that you can only enter once using each social media account. The social media platforms choices that the giveaway offers are: Email, Facebook, Instagram, Soundcloud, and Twitter.

​

There are four ways to enter the giveaway, the more ways you enter through, the higher your chances become to win the giveaway.

​

Once the giveaway reaches its deadline, it will get closed automatically and will choose an entry itself. Whoever has that entry will win this lucky giveaway!

​
In order to participate, click on the image below:
The giveaway will
start on 10th April 2020, GMT+1
, and will
end on 13th April 2020, GMT+1
.
Prize:
Tier 2 Business
Update
​
Code:
- Players get free $50,000 on login
- Enabled double pay rewards on fisher man job
- Changed bank robbery wanted escape timer to 20 minutes
- Fixed an issue with time
- Enabled easter egg hunt
- Optimized fisherman module
- You now need to be at the drop point to drop fishes, you can't sail away during this process
- Sorted fishing prices code into alert display
- Reduced sniper rifle damage slightly
- There is now 185 different easter egg locations
- Easter egg object is now random
- Sync packet modification module updated
- Adjusted the time factor so a full day and night in-game is 60 minutes long (1 paycheck = 1 IG day)
- Adjusted /time to alert display and some more cosmetic changes
- Fixed a bug where the time >10 minutes would not show happy place minutes left
- /time now shows IG time
- As in-game hours and minutes change, the game world changes along with this. So you should see a very natural and gradual sun rise, sun set, mid time etc with the game time independent of server real life time
- Fish price alert shows for 5 seconds only now
- Added rain and foggy weather back (4% chance each)
- Changed weather logic which changes every 1 IG day
- Fixed an issue with /gmute taking more than it says
- Added /gmute /nmute and /admute fine amount to punishment list
- Fixed HMA bomb or killing a player would not give the HMA a reward
- Fixed if a player killed HMA who is trying to kill them, their contract would not cancel
- Fixed if LSFMD has accepted a patient and the patient dies due to the timer running out or gets killed, the check point would not be destroyed for the LSFMD
- Death logic recoded/ reorganised
- LSFMD can't use /heal or /vaccine while dead
- You cannot /gov while dead
- Fixed a bug where HMA could not use /punlist
- Fixed a bug where players could see HMA's /punlist
Enjoy the update, lunatics!

Part of the Update
A random easter egg will show up around Los Santos, and you guys need to
find
it, each
hidden item
will have different questions that you need to answer.
Once you got the correct answer, there will be choices of rewards. Good luck finding those eggs!

* This event will be going on from 9th April - 16th April only
This is what the Easter egg looks like, so what are you waiting for? Find them!
As part of the new update, players who have
8+ playing hours
will receive a
$50,000
gift on their
first log-in
!
What are you waiting for? Claim it now before it's too late!

* This event will be going on from 9th April - 16th April only

Also, as part of the new update, the fishing job will have a
double paycheck
for
1 week
!
What are you waiting for? Go and have fun fishing! And earn yourself lots of money!

* This event will be going on from 9th April - 16th April only
We will enable the
double experience
on
April 10 to 12
, so good luck with grinding!
There will be a giveaway on our Facebook and Instagram page, make sure to check it out!
Follow our social media to keep you guys updated with events and giveaways!
Winners will be announced on the 13th of April!
Let us celebrate this day with full of blessings and happiness, as we will celebrate the
Easter Sunday where we should be
united and help each other at all costs. United we stand, divided we fall. Long live Lawless Roleplay!
-Admin Team

​
Public Relations
Development Team
Administrator Team