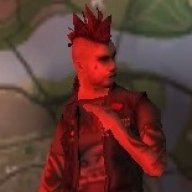 Joined

Jul 5, 2016
Messages

74
Reaction score

10
I was just DM warned by an unknown admin, for shooting at an unknown player.
I had driven by the Drug Den twice during the turf, and both times a player in a Smoke skin shot at me.
I'm not even part of the turf. Then I turned around and watched and noticed he was just shooting everyone who drove anywhere near the Drug Den, gang or not. Everyone. So I got up on the roof of the Bincos across the street and got out my rifle and took a shot at him. He ran over and returned fire and IMMEDIATELY I was DM warned... makes me wonder if the Grove himself was an Admin, or friends with one.

I had my collection of weapons taken away and was given a 20 hour DM warning.
Nobody was even killed... What has this server come to if you can't shoot back at someone who is shooting you, and other players for no reason?!
I knew there was nothing the admins in game were going to do about it, except refer me to the forums. Probably the same admin who warned me. I don't even know which admin did it, or who the Grove in the Smoke skin was. This is unfair and I would like my DM cleared, and my weapons replaced.

I am not A DMer. I have NO previous warnings, 0, and I have DONATED to this server. I come here to play respectfully and I take it seriously. I don't shoot at anyone unless they give me a REASON to.