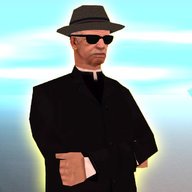 Joined

Apr 11, 2013
Messages

10,645
Reaction score

7,041
Level

2
Awards

5
In everything we do, whether it's adding new features, fixing bugs or adjusting the server direction and rules, we look at our
mission statement
. Our mission statement will never change, we will never change course nor will we break our mission statement. We abide by it dearly and we all should hold it with the utmost respect.
We have always been committed to our users by showing them how much we care about perfecting the world our user's experience. In our journey to make Lawless Roleplay one of the biggest communities, the entire administrative team has been very busy to help foster a new player experience. We have been monitoring community feedback. We are striving for success using your help by placing you in command.
Forum Rules
We have in the past 24 hours:
Issued 51 warnings
75% of warnings are for complaint post violations
24% of warnings are for posting OOC in IC forums
1% of warnings are for inappropriate behaviour
Before, our complaint post violations rule targeted people posting in a complaint who wasn't involved. This led to people that were involved starting fights and arguments which were clearly within the rules. Hence, we have alterted this rule.
The new complaint post violation rule states that you can post in any complaint even if you were not involved however the post must aid the complaint moderator in resolving the complaint. Arguments, fights and such forth will be met with a very swift forum warning.
We have also updated our
rules page
with clear explanations of what rules we enforce:
Spam and Links
Complaint post Violation
Out of character content in an in character forum
Non-English posts
Advertising
If you spot anyone breaking any of the rules stated on our
rules page
. Then please use the report link below their post.
It is your responsibility to keep up to date with our operational rules. We really hope that this clears the uncertainty around rules.
You may view the community rules via this
link
.
EDIT
: Breaking any site & forum rules will lead to removal of your moderation powers regardless of your position.
Suggestion forums
In the past, our suggestions required users to vote in a poll to show support or dissatisfaction. This meant that developers had to view every single suggestion one-by-one and compare their poll results individually. This was extremely time consuming. We have changed the system and written a
very clear guide on how to post suggestions and how to support them
.
Our new suggestions forum requires users to like the first post.
We implement suggestions based on the number of likes the first post has. We don't even open the thread regardless of views or replies so posting '/support' will be regarding as spam. We will also be issuing spam warnings for people who fail to notice this.
If you want to see what kind of suggestions will be accepted and implemented in our future updates then go to the
suggestions forum
. If you scroll to the bottom of the page:
​
Click 'Thread Display Options' and then select sort by 'First message likes' and press Set Options:
​
​
Regards,
Community Management​