This site uses cookies. By continuing to use this site, you are agreeing to our use of cookies.

Learn More.

Welcome

Guest

, please to gain full access to the Lawless Roleplay Community.
There will be a scheduled maintenance on Friday, April 18, 7:30 - 8:00 AM GMT + 0 (London Timezone). We will be applying software updates, rebooting our router and other stuff like update stuff - you know

. This should result in approximately 30 minutes of connectivity loss during the time frame.
More information will be released once the update is completed.
We thank you for your understanding and ...

Outlaws,
At Lawless, we are dedicated to creating an amazing server that inspire and delight people. We pride ourselves on making our players the most satisfied in the world. That's a lofty goal, and reaching it takes all of us at Lawless, along with players like you. We have a very transparent relationship with our community and we all share a common
mission statement
(
http://www.lawlessrp.com/threads/mission-statement.22205/
).
We want Lawless Roleplay to be the largest server on SA-MP with the most satisfied players in the world. We wanted our players to be able to reach out to any staff member and know that they'll be dealt with speed, fairly and that a common level of respect is shown.
You have been more supportive, most friendly and more willing to help our players. With that we are all rewarded with a larger population.
We have broken our previous online records 4 times in the past 24 hours, we hit an awesome number of
172 players online
today compared to our 161 record in February. We are driving towards our goals with your help.
With your patience, thoughtfulness, growing patience, understanding, and expertise, you help our players get the most out of their time on our server. And I wanted you to know that we appreciate it.
Thank you for your support.
Best regards,
Lawless Roleplay
Every month since the start of 2014, I review some fun and strange statistics around our community using a database management system which custom macros. In March, we have broken a huge majority of the previous statistics and today I would like to share them with you for the very first time in the history of Lawless Roleplay.
I strongly advice you to brace yourself as some of these figures are mind blowing and will make you question your existence and purpose in life...
A large majority of these statistics were gained by comparing 30 day old database backups to current live ones. As well as using the live database to get some statistics since we record a lot of things using unix timestamps. We have had no data loss during any of these periods nor have we deleted any data on purpose. I believe there is a degree of error which should ideally be less than 2%. For example, people admin prisoned and then released early, manual statistics overrides - however these are very uncommon and a total of 23 cases of '/setstat' usage was found during March so it's insignificant.
All of the following statistics is
ONLY FROM MARCH
(which is a bit worrying). I won't spoil it so continue onwards to the land of surprise:
There were exactly 847, 470 kills in March
Of those 847, 470 deaths - 19, 391 were suicides
There were 16, 437 new registrations on the game server in March - 14, 092 of those players have logged in the past 48 hours
There were 265 bans issued in March
If you combine everyone's playing hours collected in March, we have played a total of 50, 532 hours
That value is equivalent to 2105.5 days which is 280.7 weeks which is 70.2 months
So we have in total played a total of 5.85 years in March alone
During that time, 1561 hours were spent in admin prison which amounts to exactly 65 days
In March, there were EXACTLY 5, 932, 290 bullets shot
Of those bullets shot - 2, 193, 644 were shot from Shotguns (the largest amount from all weapons, the second was the minigun at 901, 366 bullets)
In March, a total of $6, 662, 590 was transferred across players and the server (Server generated money included ie. jobs)
However, the net money transfer was -$964, 781
There were a total of 13, 178 crimes registered by the LSPD
These figures are quite worrying for me - especially the total playing time in March. I look forward to see what April has planned for us.
In everything we do, whether it's adding new features, fixing bugs or adjusting the server direction and rules, we look at our
mission statement
. Our mission statement will never change, we will never change course nor will we break our mission statement. We abide by it dearly and we all should hold it with the utmost respect.
We have always been committed to our users by showing them how much we care about perfecting the world our user's experience. In our journey to make Lawless Roleplay one of the biggest communities, the entire administrative team has been very busy to help foster a new player experience. We have been monitoring community feedback. We are striving for success using your help by placing you in command.
Forum Rules
We have in the past 24 hours:
Issued 51 warnings
75% of warnings are for complaint post violations
24% of warnings are for posting OOC in IC forums
1% of warnings are for inappropriate behaviour
Before, our complaint post violations rule targeted people posting in a complaint who wasn't involved. This led to people that were involved starting fights and arguments which were clearly within the rules. Hence, we have alterted this rule.
The new complaint post violation rule states that you can post in any complaint even if you were not involved however the post must aid the complaint moderator in resolving the complaint. Arguments, fights and such forth will be met with a very swift forum warning.
We have also updated our
rules page
with clear explanations of what rules we enforce:
Spam and Links
Complaint post Violation
Out of character content in an in character forum
Non-English posts
Advertising
If you spot anyone breaking any of the rules stated on our
rules page
. Then please use the report link below their post.
It is your responsibility to keep up to date with our operational rules. We really hope that this clears the uncertainty around rules.
You may view the community rules via this
link
.
EDIT
: Breaking any site & forum rules will lead to removal of your moderation powers regardless of your position.
Suggestion forums
In the past, our suggestions required users to vote in a poll to show support or dissatisfaction. This meant that developers had to view every single suggestion one-by-one and compare their poll results individually. This was extremely time consuming. We have changed the system and written a
very clear guide on how to post suggestions and how to support them
.
Our new suggestions forum requires users to like the first post.
We implement suggestions based on the number of likes the first post has. We don't even open the thread regardless of views or replies so posting '/support' will be regarding as spam. We will also be issuing spam warnings for people who fail to notice this.
If you want to see what kind of suggestions will be accepted and implemented in our future updates then go to the
suggestions forum
. If you scroll to the bottom of the page:
​
Click 'Thread Display Options' and then select sort by 'First message likes' and press Set Options:
​
​
Regards,
Community Management​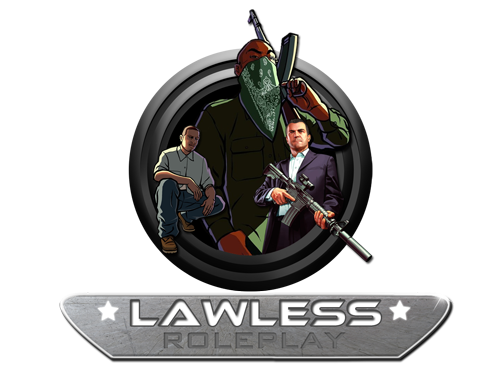 Mission Statement
​
Our mission statement to you...
Lawless Roleplay is, and always, will be a community first and a game server second. We are dedicated to fostering an environment with a member-centric approach where all players have equal potential for in game success and community recognition.
Why play here?
Lawless Roleplay was originally founded on the principle that all players should rise or decline based on the actions of the person behind the player. We feel that success should be determined by a players actions and talents and not the whim of an administrative team. We have great code. We have great staff. We have great players. But most importantly we have a vigilant regard for your potential.
Is this a roleplay server?
We have worked to provide many in game tools for roleplay and it is absolutely encouraged however not required. We feel that any preferred mode of play that does not encroach on any other player's enjoyment of the game is productive. Due to the harsh nature of game mode frequent player versus player violent interaction should be expected. However, this does not mean that players are allowed to kill other players for no reason.
This mission statement will never be altered, modified, deleted or removed. We are bound to this mission statement for life.​
Hey guys, just a quick alert to let you know that the forums were just updated to the latest version of Xenforo. Along with that, we have installed several new systems and plugins to help us tackle fake account users. We have also increased administration login systems to be two layers. This will assure us that in the future nobody will gain access to sensitive material unless they, themselves, go bananas.
EDIT:
This was initially meant to be used for admins only however we have opened it up to all. You can set up a
two-step login process
onto Lawless Roleplay. This will make your account secure and will not let anyone access your accounts without explicit permission from you.
Forum, rules and other cool updates!
​
Comrades of the seventh fleet,
We're very sorry about the momentary downtime whilst we upgraded our forums, plugins and theme. I do recognise that we had this decision and downtime before on Sunday before a
rogue admin went ape shit
. We must learn from our mistakes, improve, recover and move on. As Martin Luther King said, 'I have decided to stick to love...Hate is too great a burden to bear.' and so that is what we have decided as the community's management. Throughout life people will make you mad, disrespect you and treat you bad. Let the powers above deal with the things they do, cause hate in our hearts will consume us.
Anyway, without further ado... following
Wesson's topic
.
We have upgraded the forum's software, plugins and theme to the latest version:
On top of that, we have completely changed the style and layout of our forums. The forum style is now FULLY responsive which means that you can view the site on any device and it will look like it was specifically made for that device. We have divided the forum layout into easily recognisable categories:
Server Information
Support
In character
Out of character
We've also added non-English speaking forums, more languages will soon be supported as we hire more international administrators who can moderate those sections.
Rules
​

We have been working extremely hard on the

rules page

to make it very clear to everyone. One of the biggest complaints from players where that the rules were not clear enough. The new

rules page

shows all our OFFICIAL rules that are enforced by server admins. Any other rules note stated in the

rules page

simply do not exist. If you are unsure about a rule then send any member of management a personal message and we will clarify it in our brand new

rule update

section.

The

rule update

section will clarify any issues players are having with rules, notify you when there are new rules or alterations to existing rules.

Kind regards,
Community Management